THE CATALIST TOOLKIT
Integrated Data Platform for Campaigns & Progressive Political Organizations
The Catalist Toolkit – formerly known as the Atlas Project Toolkit – has offered irreplaceable institutional intelligence and data tools to progressive organizations since 2004.
In January 2019, Catalist added the Toolkit to our suite of browser-based data software. We are supporting the features you have come to rely upon – campaign ads through CMAG, election results, candidate and election information – and throughout 2019 and 2020 we will be adding features enhanced by the data and models that Catalist has built and maintained for the community since 2006.
What you can do with the Toolkit:
Study up on political and demographic trends in your state
Track polling and media spending across campaigns and/or states
Create custom maps with election results and demographic data
Analyze data and create custom infographics
Review Post-Election Analyses and Path-to-Victory Roadmaps
STRATEGIC CONTENT
State Dashboards: State Dashboards give users quick access to past election results, information on ongoing races, polling and ad spending, and upcoming key political dates.
Roadmaps: Detailed primers on each state's political and demographic trends, election history, culture, and paths to victory.
Post-Election Analyses: Debriefs from the Catalist Analytics team and Progressive Community partners.
CAMPAIGN TRACKING MODULES
On the Air: This module provides real-time data on ads running in campaigns at all levels side-by-side with ad videos for quick message analysis.
On the Ballot: This tool provides a race-specific overview of electoral activity for every race on the ballot – from presidential down to state legislatures. Detailed information on all officially declared candidates sits side-by-side with current ads, public polling, and recent media spending.
Calendars: Keep up-to-date on filing deadlines, state voter registration dates, and major local events. This calendar is exportable to Google or Outlook calendars or as a spreadsheet.
INTERACTIVE DATA MODULES
Analyzers: Query Toolkit databases and sort data into custom tables, create graphs or export for deeper analysis.
Maps & Visualizations: Select data and create interactive data visualizations.
Presidential Series: Compare state-by-state data from previous presidential cycles – 2008, 2012, and 2016 – in time series based on days or weeks until election day. Users can filter by demographics in two categories.
Quick Tables: Query databases going back to 1990 and export for custom analyses.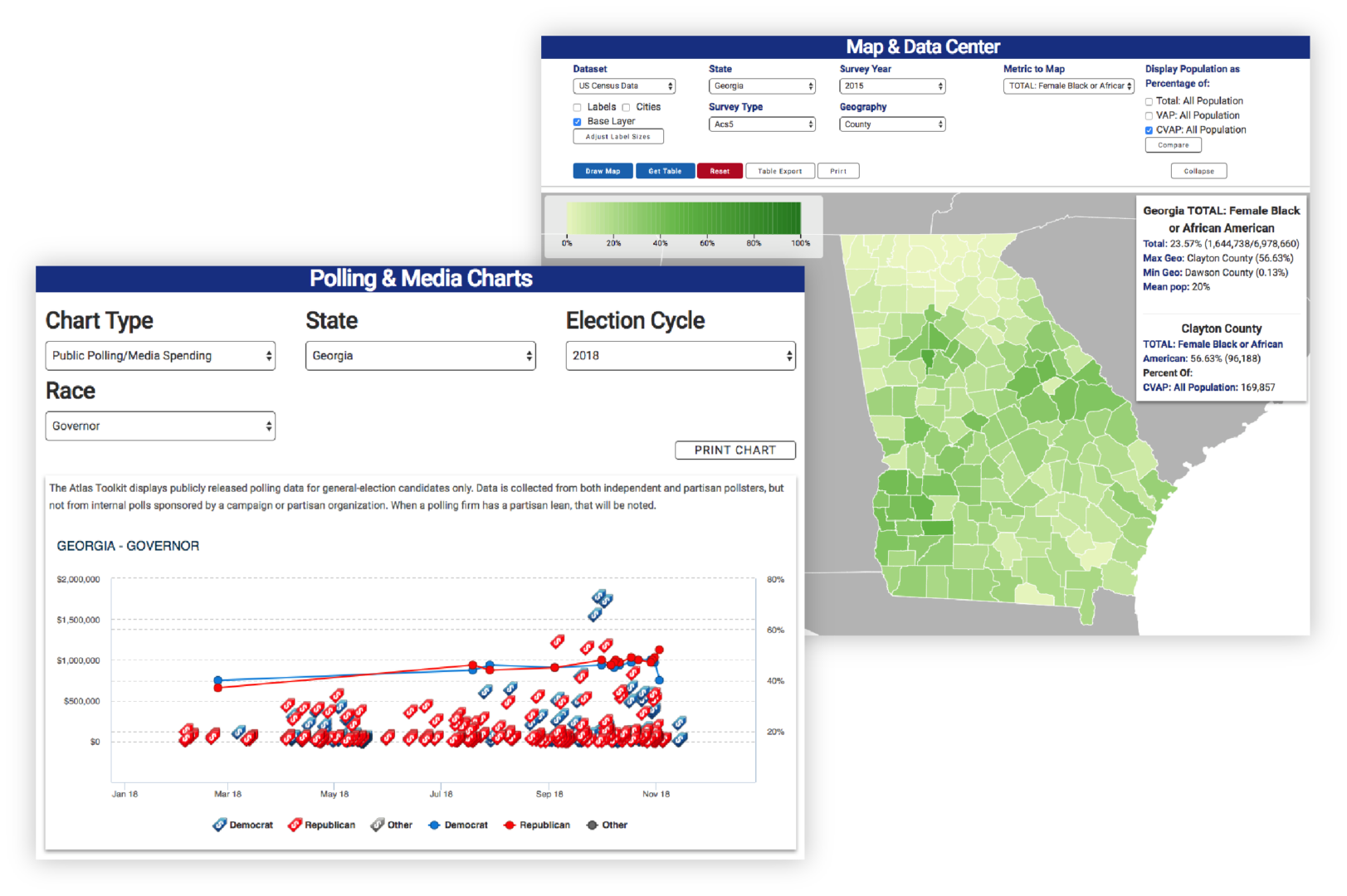 The team from The Atlas Project will continue to serve the community as Blue Compass Strategies, a political and opposition research consulting firm dedicated to providing the progressive community with top-notch research and analysis to inform their electoral, issue-advocacy and accountability campaigns. Led by Jenna Fullmer, Blue Compass Strategies will offer a variety of services including opposition research, power mapping reports, and rapid response services. For more information, click here to visit them online.